This is an archived article and the information in the article may be outdated. Please look at the time stamp on the story to see when it was last updated.
A Los Angeles jury has convicted a 63-year-old man in landmark, monthslong trial in which he was accused of being the "Grim Sleeper," a serial killer who prosecutors said raped his female victims before shooting or strangling them and dumping their bodies in South L.A.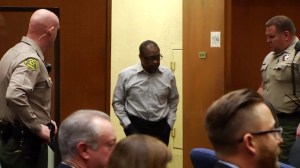 Lonnie Franklin Jr. was charged with 10 counts of murder and one count of attempted murder in the deaths of nine woman and a 15-year-old girl over more than two decades.
A verdict from the jury of seven women and five men was read in a courtroom at the Clara Shortridge Foltz Criminal Justice Center in downtown L.A. shortly after 1:30 p.m. Thursday.
Franklin, a former city sanitation worker, was found guilty on all counts. He showed no apparent reaction to the verdict.
Los Angeles Superior Court Judge Kathleen Kennedy said there were "legal matters" that would delay the penalty phase of the trial, in addition to the scheduling of upcoming witnesses. She asked jurors to return on May 12, telling them to continue not to discuss the case publicly.
After the hearing, relatives of several victims expressed relief that finally, after so many years, a guilty verdict had come down.
"He took my daughter's life, along with the other lives," said Porter Alexander, the father of Alicia Alexander, who was 18 when she was killed in 1988.
"Had no feeling whatsoever — he showed that. It's something that could never understood — for a man to be as cold-blooded and with no feeling that he had toward humanity."
Retired Los Angeles Police Department Detective Dennis Kilcoyne, who was the head of a task force that worked that case from 2007 until his retirement about three years ago, called Thursday a "very big day," noting it had been nine years since the last victim was found.
"These families — it's not a club you want to belong to," Kilcoyne said. "I think the world of these people, these families."
The first killing in the court case occurred in 1985, followed by six more through 1988. The remaining victims were killed in 2002, 2003 and 2007, according to a 2011 grand jury indictment of Franklin.
The gap between the killings prompted the criminal nickname, the "Grim Sleeper."
Their bodies were found in alleys, covered in debris, thrown into trash containers or dumped into bushes, the Los Angeles County Deputy District Attorney's office said in a news release.
"Once he saw he could get away with murder, literally, he just kept doing it,"  Deputy District Attorney Beth Silverman told the jury during closing arguments.
Franklin shot or choked his victims, who ranged in age from 15 to 35, Silverman alleged.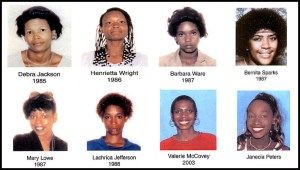 "He watched as they struggled to breathe. … He watched as they each died," she said. "The defendant is a sexual predator. Sexual gratification was his clear motive here."
Silverman is seeking the death penalty in the case.
After jury selection started in late January, opening statements began Feb. 16. Closing arguments finished Tuesday afternoon, and jury deliberations began Wednesday morning.
Franklin did not take the stand in his own defense.
He was arrested in 2010 after a DNA search of an inmate database led to a partial match for his son. Los Angeles Police Department investigators with a special task force then followed the elder Franklin until he tossed out his trash after eating pizza in Buena Park, leaving crucial genetic material on pizza crust.
He was soon arrested at his home in South L.A. and has been held without bail since then. Police found photos more than 100 women in his home, some of whom remained unidentified.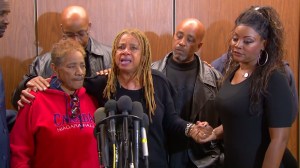 "We want justice for them as well," said Margaret Prescod, an activist who spoke after the hearing.
Prescod, who founded the Black Coalition Fighting Back Serial Murders, said conditions still exist that led to the victimization of the young women killed by Franklin.
"There needs to be a task force," she said, that continues the police work that led to Thursday's conviction. "We cannot forget about those victims."
The gun that was used in at least one of the killings was found at Franklin's home, the DA's office said.
Testimony during trial showed Franklin's DNA was found on the bodies of seven victims, the Los Angeles Times reported.
The only known surviving victim of the attacker, Enietra Washington, was the prosecution's star witness. She told the jury that in 1988, when she was 30, she accepted a ride from Franklin after he drove by and approached her while she walked to a friend's house. In the car, he then allegedly shot and sexually assaulted her.
Her assailant pushed her out of the car, leaving her for dead, but she managed to get to her friend's house and then to a hospital.
Her testimony, on Feb. 25, prompted her son to bolt from the courtroom, the Times reported. She identified Franklin as her attacker.
A relative of one of the victims told reporters on Monday that justice was a long time coming for the families.
The killer took away the victims' chances to resolve challenges in their lives, said Tracy Williams, cousin of victim Mary Lowe, who was killed in 1987.
"He threw them away like trash, like they weren't people, like they didn't have families," Williams said. "He had no regard for life."
Franklin's attorney dismissed the DNA evidence, raised questions about ballistics evidence, and said other men — including a younger relative of the defendant — could be tied to the victims' deaths. The defense's opening statement was deferred until March 21, after the prosecution had rested its case.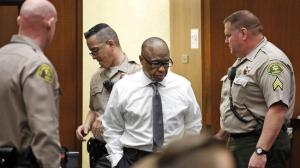 The city of Los Angeles had offered its largest ever reward in the case.
On announcing Franklin's arrest in 2010, LAPD Chief Charlie Beck noted that the suspect lived within eight blocks of billboards showing the victims' faces and asking for help in the case.
The women of whom Franklin is accused of killing, followed by the approximate dates of their deaths, are:
Debra Jackson, 29 – Aug. 10, 1985
Henrietta Wright, 34 – Aug. 12, 1986
Barbara Ware, 23 – Jan. 10, 1987
Bernita Sparks, 26 – April 15, 1987
Mary Lowe, 26 – Nov. 1, 1987
Lachrica Jefferson, 22 – Jan. 30, 1988
Alicia Alexander, 18 – Sept. 11, 1988
Princess Berthomieux, 15 – March 19, 2002
Valeria McCorvey, 35 – July 11, 2003
Janecia Peters, 25 – Jan. 1, 2007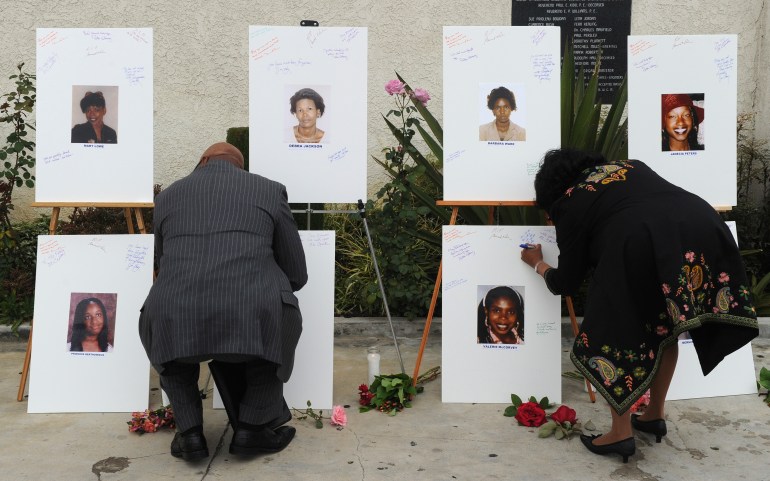 Reverend Dr. Kelvin Calloway, left, leaves a message on photographs set up as a memorial for 10 of the victims of the serial killer dubbed the "Grim Sleeper" in Los Angeles on Aug. 10, 2010. (Credit: MARK RALSTON/AFP/Getty Images)