This is an archived article and the information in the article may be outdated. Please look at the time stamp on the story to see when it was last updated.
Former Los Angeles garbage collector convicted in the so-called Grim Sleeper slayings that spanned more than two decades was sentenced to death on Wednesday, capping a lengthy case that centered on the gruesome deaths of more than a dozen women in South L.A.
"This is not a sentence of vengeance," Superior Court Judge Kathleen Kennedy told Lonnie David Franklin Jr. as relatives of his victims looked on, some of them in tears.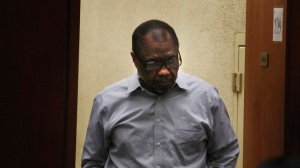 Franklin, 63, was convicted earlier this year of killing nine women and a teenage girl from 1985 to 2007. During the penalty phase of his trial, prosecutors connected him to five additional slayings. But detectives believe he may have killed at least 25 women.
The judge read the names of the 10 victims Franklin was found guilty of killing. In each case, Kennedy told him, "You shall suffer the death penalty."
Click here to read the full story on LATimes.com.