This is an archived article and the information in the article may be outdated. Please look at the time stamp on the story to see when it was last updated.
While President Trump awaits the authorization and funds to construct his promised 2,000-mile U.S.-Mexico border wall, an organization has proposed a local initiative that would keep immigrants who are in the country illegally out of some Inland Empire schools.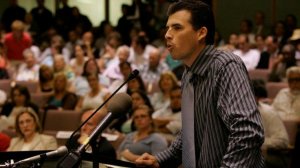 Voters in the Yucaipa-Calimesa Joint Unified School District — a district split by San Bernardino and Riverside counties — may soon be able to decide if undocumented immigrants should be prohibited from attending K-12 public schools, and whether American-born children of immigrants here illegally should be charged "nonresident" tuition.
Joseph Turner, a former San Bernardino resident now living in Torrance, filed a notice of intent this week with the San Bernardino County registrar of voters to circulate a petition for the proposed ballot measure.
"We can no longer subjugate the education and future of our children," Turner wrote in the filing on behalf of his nonprofit group, American Children First. "We will no longer take care of those who have broken our laws and seek to prosper at the expense of our children."
Click here to read the full story on LATimes.com.