This is an archived article and the information in the article may be outdated. Please look at the time stamp on the story to see when it was last updated.
"Growing Pains" star Alan Thicke was playing hockey with his son in Burbank prior to his sudden death Tuesday.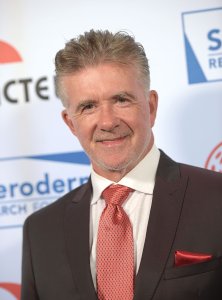 The well-known actor regularly played at Pickwick Ice with his son Carter Thicke and was involved in a pickup game when he suffered a heart attack and collapsed to the ice about 11:30 a.m., witnesses said.
Pop-soul singer Robin Thicke confirmed to the Los Angeles Times his father had suffered a heart attack while playing hockey.
A manager at the ice rink said emergency personnel arrived quickly to help Alan Thicke.
"We called 911 and within a couple of minutes the paramedics were here and they took him away," Pickwick Ice Operations Manager Kyle Stavert said.
Alan Thicke was even joking around with his son while emergency crews put him on a stretcher, Stavert said.
"He was talking, he was alert … He seemed to be in good spirits when he left," Stavert said.
A lineup card from the rink showed Carter Thicke and his father were on the same line together during the game.
Alan Thicke was taken to Providence St. Joseph Medical Center, where he was pronounced dead later in the afternoon.
Alan Thicke was best known for his acting, especially on the hit sitcom "Growing Pains," but he was also a producer and writer.
Alan Thicke even composed the theme songs for Diff'rent Strokes and Wheel of Fortune, among others.
Both Carter and Robin Thicke took to Instagram to express their thoughts on their father.
"Growing Pains" co-star Kirk Cameron also posted a message to his former "TV dad" on social media.