This is an archived article and the information in the article may be outdated. Please look at the time stamp on the story to see when it was last updated.
Ralphs was the supermarket of choice for Inglewood hairdresser Elise Santos — until grocery chain Aldi arrived in Southern California last year.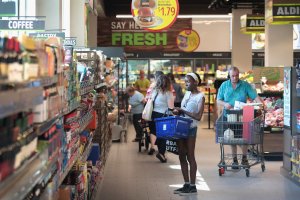 Aldi, a German-based discount grocer, opened its first U.S. store in 1976 but reached California only last year. It's now rapidly expanding and quickly has become Santos' go-to market.
"I prefer Aldi because it is smaller than grocery stores like Ralphs," she said, and "the employees are friendlier and more helpful."
With 38 stores in Southern California, Aldi is just getting a toehold in the local grocery industry. But with the region already one of the most competitive in the nation, Aldi is adding to the pressure on Ralphs, Albertsons, Wal-Mart and other big chains — as well as smaller grocers such as Sprouts — to keep loyal shoppers and avoid losing market share.
Read the full story on LATimes.com.