This is an archived article and the information in the article may be outdated. Please look at the time stamp on the story to see when it was last updated.
A loaded handgun was recovered at the home of a 14-year-old Anaheim boy whose classmates said he was threatening to "shoot up" the school, and the boy was detained within hours Monday, according to the Fullerton Police Department.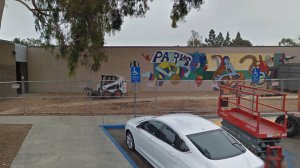 Police responded to a call about a student making threats at D. Russell Parks Jr. High School in Fullerton at about 11:30 a.m. Administrators at the school had contacted authorities after multiple students came forward, saying a male classmate of theirs said he was planning to "shoot up" the school the next day, police said.
The students told school administrators the boy said he had access to a gun at his home, police said.
After responding to the call, Fullerton police went to the Anaheim home of the 14-year-old. There, officers discovered a loaded handgun along with "a large amount of ammunition" that was all "easily accessible" to the boy, Sgt. Jon Radus said.
"The gun was not secured. The student knew exactly where the gun was," Radus said. "He told us where the gun would be and it was exactly where he said it would be."
The 14-year-old has since been detained at Orange County Juvenile Hall on suspicion of making criminal threats, police said. The motive behind the alleged threats is still under investigation.
In a news release, Fullerton police advised people to stay alert and "if you see something, say something," which they said was done in this case — potentially stopping a serious threat of violence.
"This information was brought forward by numerous courageous students who knew what they were hearing the male student say was not only inappropriate, but dangerous," police said.
No further details have been released by police but anyone with information can contact Fullerton Police School Resource Officer Jose Paez at 714-773-5703. Anonymous tips can be forwarded to O.C. Crime Stoppers at 855-847-6227.
Correction: An earlier version of this report contained a photo of nearby Sunset Lane Elementary School. The image has been updated.