This is an archived article and the information in the article may be outdated. Please look at the time stamp on the story to see when it was last updated.
A gunman fired several rounds outside the upscale Mondrian hotel in West Hollywood on Tuesday evening in a fit of rage after the hotel staff made him get rid of his marijuana, authorities said.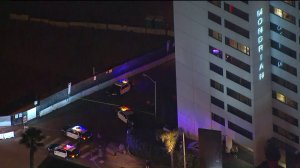 The man was told to leave the hotel after the dispute. As he was leaving, he shot four or five rounds into the air, said Los Angeles County Sheriff's Sgt. Charles Duncan. No one was hit.
The man, in his 30s, then got into a silver hatchback waiting at the curb, with a woman behind the wheel. The car was last seen heading east on Fountain Avenue.
A front desk receptionist who answered the phone at the hotel declined to comment.
Read the full story on LATimes.com.