This is an archived article and the information in the article may be outdated. Please look at the time stamp on the story to see when it was last updated.
Officers with the Los Angeles Police Department were searching Thursday night for the gunman who shot and killed a man outside a well-known tattoo shop in North Hollywood.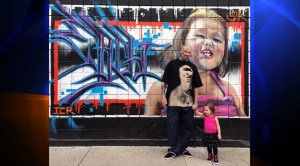 The shooting occurred around 5:50 p.m. outside 5150 Tattoo & Body Piercing, near Laurel Canyon and Victory boulevards, according to LAPD Officer Jane Kim.
According to witnesses the confrontation began as a fist fight that escalated into gunfire.
The gunman reportedly fled in a four-door white Honda Accord, Kim said.
The victim was later identified as Michael Pebley, 40, of Tujunga, according to the Los Angeles County coroner's office.
Friends gathered at the scene said Pebley was a famous tattoo artist and father of three who went by the name Trigz.
However, his niece said Pebley had five children and was a piercer who painted graffiti art. Although he helped operate 5150 Tattoo & Body Piercing and owned the Sin City Tattoo shop in Pacoima, he was not a tattoo artist himself, said Cassandra Pebley.
A number of condolences were already being posted on his Facebook page.
The gunman was described as white or Hispanic, 5 foot 6 inches  to 6 foot 1 inches tall and weighed about 200 pounds, according to Kim.
KTLA's John A. Moreno contributed to this report.