This is an archived article and the information in the article may be outdated. Please look at the time stamp on the story to see when it was last updated.
A convicted felon who fatally shot a California Highway Patrol officer during a traffic stop in Riverside this month fired at least 100 rounds during the lengthy gun battle before being shot by law enforcement, officials said this week.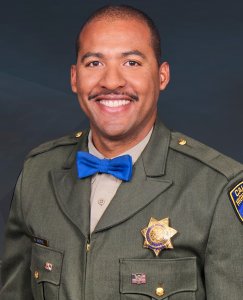 New details about the Aug. 12 gun battle that killed CHP Officer Andre Moye came to light during a Riverside Community Police Review Commission meeting on Wednesday. A Riverside police official told the commission — a nine-member civilian oversight panel for the police department — that the gunman, Aaron Luther, had high-capacity magazines for the rifle he used that could hold up to 120 round.
Moye had pulled over Luther at 4:54 p.m. near Box Springs Boulevard and Eastridge/Eucalyptus Avenue, west of the 215 Freeway, after spotting him driving alone in the carpool lane. Luther's license was expired and his vehicle registration was out of date, so Moye decided to impound the vehicle and have it towed, said Officer Ryan Railsback, a spokesman for the Riverside Police Department.
Moye stood on the driver's side of Luther's vehicle talking with the tow truck driver as Luther gathered his belongings. As Moye moved toward the passenger side of the vehicle, Luther grabbed a rifle from the truck and started shooting, Railsback said.
Read the full story on LATimes.com.