This is an archived article and the information in the article may be outdated. Please look at the time stamp on the story to see when it was last updated.
Police are searching for the gunman or gunmen believed to be driving a white Maserati after a 77-year-old man was shot in the Hyde Park neighborhood of South Los Angeles Wednesday evening.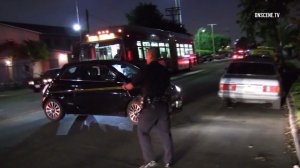 The shooting was reported at the Van Ness Recreation Center in the 5700 block of Second Avenue about 8:19 p.m., Los Angeles Police Department Officer Sal Ramirez said.
"Unknown suspects in a white Maserati … started shooting in the eastbound direction in the parking lot," Sgt. Joey Reyna said.
The victim, identified only as a 77-year-old man, was in critical but stable condition after being rushed to a hospital following the shooting, Lt. Green said.
It was unclear if there was any sort of exchange between the victim and the gunman before shots were fired, Reyna said.
The Maserati, which had tinted windows and black rims, fled southbound on Second Avenue, Reyna said.
Authorities did not have a license plate number and no description of the gunman was available.
Investigators have not determined a motive for the shooting.