This is an archived article and the information in the article may be outdated. Please look at the time stamp on the story to see when it was last updated.
Homicide detectives were investigating Monday after a 21-year-old man was fatally shot outside a restaurant in the Lennox area of South Bay.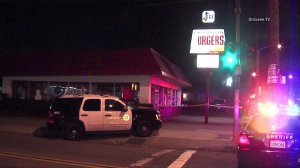 The shooting occurred in the 11100 block of Inglewood Avenue (map) at about 11 p.m. Sunday, according to a news release from the Los Angeles County Sheriff's Department.
A witness told sheriff's deputies that a shooter opened fire on a group of people who were hanging out in the back parking lot of a restaurant.
The 21-year-old man was the only person hit by the gunfire, according to the Sheriff's Department.
He later died of his injuries after being rushed to a local hospital.
The victim's name has not been released.
Investigators did not have a detailed description of the shooter, who remained at-large as of Monday morning.
No further details were available.
Anyone with information about the shooting was encouraged to call the L.A. County Sheriff's Department's Homicide Bureau at 323-890-5500.
Those wishing to provide a tip anonymously were asked to contact Crime Stoppers by calling 800-222-8477, texting the letters "TIPLA" plus a tip to 274637, or through the website http://lacrimestoppers.org.