This is an archived article and the information in the article may be outdated. Please look at the time stamp on the story to see when it was last updated.
An hourslong standoff ended Sunday night when a San Bernardino house erupted in flames and police took into custody a man who had allegedly shot at an ice cream truck and officers, officials said.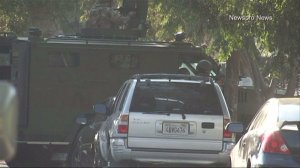 Officers responded about 3 p.m. Sunday to the 700 block of West 19th Street (map) after multiple callers reported shots fired, authorities said.
Several children had been in line at the ice cream truck when the man, described as a military veteran in his 50s or 60s, exited his home and opened fire, hitting the vehicle three times, witnesses said.
No injuries were reported in the shooting, said Lt. Richard Lawhead of the San Bernardino Police Department.
The man then barricaded himself inside the house, Lawhead said.
Residents were evacuated from the immediate area surrounding the location, near San Bernardino High School, and the Police Department's SWAT team was called to the scene.
Authorities believed they knew who the man was and attempted to make contact with him throughout the afternoon and into the evening, Lawhead said.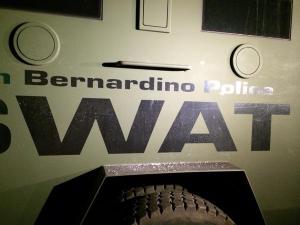 About 8:30 p.m., the man allegedly stepped out of the home and opened fire on officers. No one was injured. The department's armored vehicle was struck several times.
Police then requested assistance from the San Bernardino County Sheriff's Department, which also deployed an armored vehicle to the scene. Authorities were equipping the vehicle to gain entry into the house.
The fire broke out at the home shortly after 11 p.m. San Bernardino Fire Department personnel were at the scene.
About 11:30 p.m., a San Bernardino County Sheriff's Department official confirmed that the man had been taken into custody.
No other information was immediately available.