This is an archived article and the information in the article may be outdated. Please look at the time stamp on the story to see when it was last updated.
A body was located at a Riverside home where a suspected gunman was believed to be hiding and caught fire as authorities were preparing to enter Tuesday morning.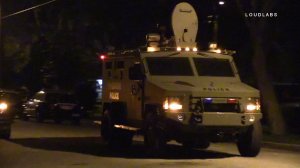 Investigators believe the gunman entered the home sometime after shooting at officers who were involved in a traffic stop about 10 p.m. Monday near the intersection of Hawthorne Avenue and MacArthur Road, Riverside Police Department Officer Ryan Railsback said.
On Monday evening Riverside police said in a statement that a body was found at the home after the fire was extinguished and the structure was searched.
Three people were taken into custody during the traffic stop that prompted the incident, but a fourth person fled and fired at officers, Railsback said.
None of the officers were struck by the gunfire, Railsback said, adding that officers did return fire but it was unclear if the gunman was hit.
SWAT officers were brought into the area to search for the gunman.
A perimeter was set up around the area before authorities narrowed their search to a single home near the 4400 block of MacArthur Road, the Los Angeles Times reported.
The home was one of three or four that had been evacuated, Railsback said.
Officers established communications with the occupants of the home and several people came out, police said. One person remained inside and refused further requests to exit from officers.
Detectives obtained a search warrant, police said. As officers were preparing to enter and search the home about 7:30 a.m., it caught fire and began to burn, police said.
The identity of the body found at the home has not yet been released.
It was unclear if the fire was started by the gunman or SWAT tactics officers were using, Railsback said.
The cause of the fire remains under investigation.
KTLA's Irving Last contributed to this report.