This is an archived article and the information in the article may be outdated. Please look at the time stamp on the story to see when it was last updated.
Authorities were searching for a gunman Wednesday following a parking lot shootout that left one man dead and a woman wounded in an unincorporated area near Bassett the night before.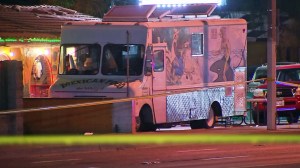 The shooting occurred about 9 p.m. Tuesday in the parking lot of the El Jalisco Cafe in the 13100 block of Valley Boulevard, said Lt. Joe Mendoza with the Los Angeles County Sheriff's Department.
A gunfight took place between at least two people in the patio area of the restaurant, Mendoza said.
Video showed a taco truck was also set up in the parking lot area of the restaurant, which was said to be very busy at the time of the shooting.
Authorities found a man and a woman at the scene suffering from gunshot wounds.
The man had been shot in the upper torso and died at the scene, Mendoza said.
The woman had multiple gunshot wounds to her lower body and was taken to a hospital in stable condition, Mendoza said.
Investigators were searching for a gunman described only as a Hispanic man.
There was no known motive for the shooting and it was unclear if it was gang related, Mendoza said.
Anyone with information about the incident was asked to contact the Sheriff's Department at 323-890-5500.
Those who prefer to remain anonymous can call Crime Stoppers at 800-222-TIPS (8477).