This is an archived article and the information in the article may be outdated. Please look at the time stamp on the story to see when it was last updated.
As friends, family members and customers on Wednesday mourned the victim of a fatal shooting outside a Quiznos restaurant in San Dimas, authorities were searching for the man who killed him.
The gunman entered the Quiznos in the 1000 block of West Arrow Highway (map) at about 3:25 p.m. Tuesday and pulled out a handgun, Sgt. Rebecca Rodriguez of the Los Angeles County Sheriff's Department said.
The man demanded money from the person behind the counter and threatened to kill customers if it wasn't given to him, according to Rodriguez.
"The employee gave over the money and he followed the suspect outside of the location. A struggle ensued in front of the store and the suspect shot the victim," Rodriguez said.
The victim, later identified by the coroner's office as 62-year-old Pravin Patel, was pronounced dead after being taken to a local hospital, according to a Sheriff's Department news release.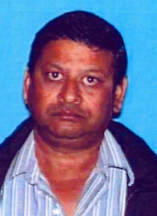 Rodriguez said the victim had been shot in the chest.
Patel was described as a good friend, good neighbor and hard worker by those who knew him at the strip mall. Flowers were candles were left outside the restaurant on Wednesday.
Patel's niece said the outpouring of support from loyal customers confirmed how much her uncle was loved.
"Whoever did this took away a life that never should have been taken away this early, and should never have been taken away in this manner," said Risha Patel.
"If you are that desperate, this man would have given it to you. You didn't have to shoot him," she added.
Kelly Strong, who runs a business next door, rushed to Pravin Patel and called 911.
"It's really heartbreaking," Strong said. "It was totally senseless."
The gunman ran southbound from the location and was described as a white or Hispanic man, about 6 feet tall, weighing 150 to 160 pounds with brown hair and brown eyes.
He was wearing a black hat, black T-shirt and plaid shorts, according to Rodriguez.
Anyone with information was asked to contact the sheriff's Homicide Bureau at 323-890-5500.  To provide an anonymous tip, call "Crime Stoppers" at 800-222-8477.
More videos: