This is an archived article and the information in the article may be outdated. Please look at the time stamp on the story to see when it was last updated.
A Stockton bank robber who used a hostage as a human shield during a police pursuit pleaded guilty to murder and a host of other charges Friday, San Joaquin County prosecutors said.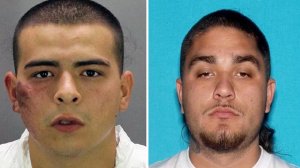 Jamie Ramos, who faced a death penalty trial, also pleaded guilty to carjacking and attempted murder on a peace officer and will be sentenced to life without parole for his role in July 2014 incident.
An accomplice, Pablo Ruvalcaba, pleaded guilty to murder and will be sentenced to 25 years to life, officials said.
Ramos and Ruvalcaba were among four men who robbed the Bank of the West in Stockton on a weekday afternoon, took three hostages, then fled with officers in pursuit. Their two accomplices were killed in a shootout with police.
Click here to read the full story on LATimes.com.