This is an archived article and the information in the article may be outdated. Please look at the time stamp on the story to see when it was last updated.
A man accused of shooting at officers after a deputy attempted to serve an eviction notice was believed to have died after setting fire to his home during a barricade situation in Chino Wednesday, police said.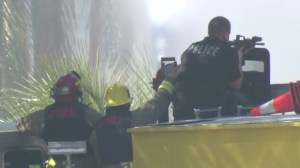 The incident began when a court services deputy went to serve an eviction notice at a Santa Anita Avenue home, San Bernardino County Sheriff's Department spokeswoman Cindy Bachman said around 9:30 a.m.
A "subject" inside the home shot at the deputy, who called for backup, the Chino Police Department tweeted. The man then allegedly shot multiple times at responding officers, engaging in a "gun battle" from the front of the home, Chino police Capt. Wes Simmons said.
The officers then deployed a non-incendiary chemical agent, and the residence became "fully engulfed in flames," according to police. Cellphone video showed smoke pouring out of the home, in the 11400 block.
Investigators think the man set the fire himself.
"Through the course of this investigation, we did obtain information from an acquaintance of the resident who told us that he told this acquaintance yesterday that he had planned to burn down the house and kill himself," Simmons said.
Firefighters with the Chino Valley Fire District responded to extinguish the flames.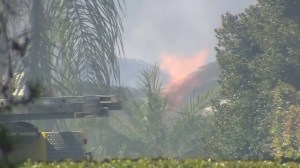 Residents in the area were asked to evacuate.
By midafternoon, the search for the man was called off, and Simmons said the shooter was believed to have died inside the house.
"It will take several hours for the fire to cool down enough for use to get in there and dig through the debris," Simmons said.
A neighbor said the person who lived in the home was a white man in his late 40s who worked in landscaping.
"I heard the shooting … a lot of bullets," said neighbor Arvut Utaranart.