This is an archived article and the information in the article may be outdated. Please look at the time stamp on the story to see when it was last updated.
An 18-year-old passenger died and another young man suffered major injuries when their car plummeted more than 100 feet down an embankment after going off the side of Turnbull Canyon Road in Hacienda Heights on Sunday afternoon, authorities said.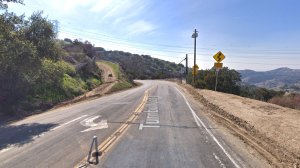 Anthony Szeto of Hacienda Heights died at the scene of the 12:20 p.m. crash on Turnbull Canyon Road, just south of Skyline Drive, according to California Highway Patrol and Los Angeles County Department of Medical Examiner-Coroner officials. He turned 18 three days before the crash.
He was riding as a passenger in a 1992 Mazda Miata being driven by another 18-year-old Hacienda Heights man, the CHP said in a written statement.
The car was headed south at an unknown speed prior to the crash.
"(The driver) lost control of the Mazda as he negotiated a left curve in the roadway and then struck a dirt embankment," the statement said. "The Mazda continued over the embankment and then rolled over as it descended the other side."
Both the driver and passenger were trapped in the car, officials said.
Paramedics pronounced Szeto dead at the scene, the CHP statement said. The driver was taken to a trauma center with major injuries.
Both the driver and passenger were wearing seat belts, officials added. DUI was not initially suspected.
Anyone with information can reach the CHP's Santa Fe Springs-area office at 562-868-0503.