This is an archived article and the information in the article may be outdated. Please look at the time stamp on the story to see when it was last updated.
Anaheim, Calif. (KTLA) – Huge crowds flocked to Disneyland and California Adventure Park in Anaheim Friday, as the attractions kicked off their summer season by staying open for 24 hours straight.
The event, billed as "Monstrous Summer All-Nighter," was part of a promotion for the entertainment giant's upcoming movie, "Monsters University."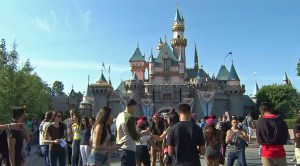 Huge crowds camped out Thursday night and poured into Disneyland when the doors opened at 6 a.m.
This isn't the first time Disneyland Resort has been open for 24 hours.
The theme park had a similar promotion last year. It was so popular that people were turned away as the park filled to capacity.
Extra precautions were made this time, such as bringing in more police officers and requiring staff to park off-site, Disneyland spokeswoman Suzi Brown told KTLA5.
"We worked really well with the city of Anaheim this year and traffic control to help mitigate all those problems," Brown said.
"You meet friends, you meet new people from all over the world and you get to create experiences you couldn't ever do at any other place except Disney," park visitor Victor Serrano told KTLA5.
Disney World in Orlando, Florida, was also open all-night.