This is an archived article and the information in the article may be outdated. Please look at the time stamp on the story to see when it was last updated.
Harrison Ford flew over the top of a commercial airplane while landing his private aircraft after being instructed to use another location at John Wayne Airport on Monday, a source confirmed to KTLA.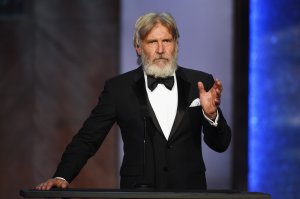 The incident at the Santa Ana airport was first reported by NBC News and the source confirmed the information is accurate.
The mixup could result in the actor losing his pilot license, the news agency reported. 
Air traffic controllers cleared Ford, who was piloting a single-engine Aviat Husky, to land on runway 20-L at the airport and Ford correctly read back the clearance, the source said.
Ford, 74, then landed on a taxiway that runs parallel to the runway and flew over a Boeing 737.
NBC News reported that the American Airlines plane had 110 passengers and a six-person crew. The plane was able to safely take off to Dallas shortly after the incident, according to NBC News.
An air traffic control recording captured Ford asking "Was that airliner meant to be underneath me?" NBC reported, and air traffic controllers told the actor that he had landed on the taxiway.
An FAA spokesman added that landing on the taxiway is a violation of FAA regulations.
The Federal Aviation Administration is investigating the incident. A spokesman for the federal agency told the Los Angeles Times that landing on a taxiway is a violation of FAA regulations. The mishap could result in anything from a simple warning to suspension of Ford's pilot license, NBC News reported.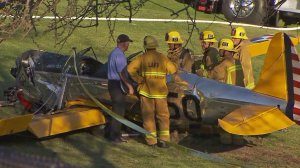 Ford, who is known to collect vintage planes, has been involved in several crashes, including one near Santa Monica airport on March 2015.
He was piloting a small World War II-era plane when he crashed at a golf course.
He underwent surgery after the incident and eventually recovered.
The actor crash-landed a helicopter in Ventura County during a lesson in 1999, NBC News reported.
One year later, Ford's six-seater Beechcraft Bonanza scraped the runway during an emergency landing at Lincoln Municipal Airport in Nebraska.
KTLA's Jennifer Thang contributed to this story.