This is an archived article and the information in the article may be outdated. Please look at the time stamp on the story to see when it was last updated.
Actor Harrison Ford remained hospitalized in Westwood on Friday morning, recovering from injuries he sustained the day before when the small World War II-era plane he was piloting experienced engine failure and crashed at a golf course near Santa Monica Municipal Airport.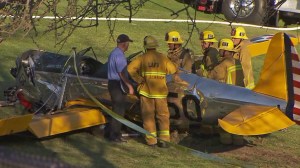 The 72-year-old Hollywood icon, best known for his roles as Indiana Jones and Han Solo, suffered broken bones in his ankle and pelvis when the Ryan Aeronautical aircraft model ST3KR came down shortly before 2:30 p.m. Thursday at Penmar Golf Course in Venice.
"He's fine, has a few gashes," a source close to the longtime aviator's family told KTLA.
About 2 1/2 hours after the crash, Ford's son tweeted an update on his father's condition at Ronald Reagan UCLA Medical Center.
"At the hospital. Dad is ok. Battered, but ok!" Ben Ford wrote. "He is every bit the man you would think he is. He is an incredibly strong man."
The elder Ford reported a loss of engine power just after the vintage plane took off from Santa Monica Municipal Airport at 2:20 p.m. Thursday.
"53178 engine failure. Immediate return," the pilot is heard saying in an air-traffic control recording.
The "experienced pilot" was attempting to return to a runway when he clipped a treetop and came to rest on the golf course, National Transportation Safety Board Investigator Patrick Jones said during a news conference Friday morning at the crash site.
Standing a short distance away from the damaged two-seater,  Jones was asked what may have caused the loss of engine power.
"There's a lot of different things that can make an engine quit," he said. "Documenting the site allows us to go back and look at something. … Having that means you can revisit where the airplane came to rest compared to the first impact point. Physics comes into play."
The NTSB investigator was also asked to comment on the skill involved in the emergency landing, which left only the pilot injured.
"Any time a human being can survive an accident with a mechanical device — whether it be a car, airplane, helicopter, whatever — is a good day," Jones replied. "That's all I'm going to say."
Jones said he had not reviewed witness videos of the scene, some of which were broadcast by the celebrity news website TMZ.
Ina Treciokas, Ford's publicist, said in a statement Thursday that the actor "had no other choice but to make an emergency landing, which he did safely."
Ford was conscious and breathing when bystanders, including at least one doctor, rendered aid at the golf course before paramedics arrived.
"He appeared to be conversant. He was oriented. And he was a little shaken up, as you would imagine, but he was intact. Generally, considering the trauma, he looked pretty good," said Dr. Sanjay Khurana, an orthopedic spine surgeon who was golfing when the propeller plane "came straight down."
After checking Ford's airway and circulation and determining he was stable, Khurana then helped extricate the pilot from the plane because it was leaking fuel.
At the news conference Friday, Jones, the NTSB investigator, described the plane as "a fairly simple aircraft."
"It's a 1942 vintage aircraft," he said. "There's not a lot of computers to it. A lot of it is old-school mechanical."
He said investigators will attempt to speak with Ford about the incident but it was unclear when that interview will take place.
"We definitely want to know what he knows," Jones said.
Ford's crash has reignited the long-running debate over the safety of the airport.
"It does highlight that it's part of an urban community that needs very real attention to the safety concerns," said Santa Monica resident Lori Whitesell.
The Santa Monica City Council was expected to discuss the future of the airport at a special meeting set for March 24.
KTLA's Kennedy Ryan contributed to this story.
More video: