This is an archived article and the information in the article may be outdated. Please look at the time stamp on the story to see when it was last updated.
The number of hate crimes in Los Angeles and other major cities rose in the first half of 2017 amid more polarized politics and protests, according to new data.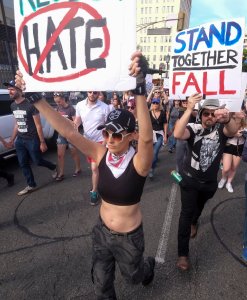 The Los Angeles Police Department documented a 12.6% increase in hate crimes in the first half of 2017, 161 compared to 143 in the same period last year. The information was collected by Cal State San Bernardino's Center for the Study of Hate and Extremism.
The LAPD on Friday provided The Times with data confirming the increase in the number of hate crimes.
Violent crimes motivated by hate climbed from 24 to 36 for the first six months in Los Angeles. Much of the rise in violent crime was driven by a jump in aggravated assaults — with an additional 10 motivated attacks through July 31, according to the data. Los Angeles recorded a 15% increase in 2016, with 230 such crimes, the highest number in the city since 2008.
Read the full story on LATimes.com.