This is an archived article and the information in the article may be outdated. Please look at the time stamp on the story to see when it was last updated.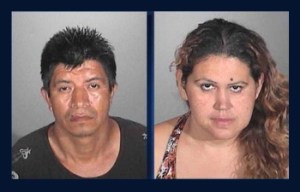 HAWTHORNE, Calif. (KTLA) — A mother and her boyfriend were arrested Monday in connection with the death of her 14-month-old son at Centinela Hospital.
The child was brought to the hospital after his report reported he had stopped breathing.
Shortly after he arrived, the boy was pronounced dead.
Homicide detectives arrested the child's mother, Sandra Cartegena, 42, for child endangerment, and her boyfriend, Julio Mejia, 44, for murder.
Both were being held at the Hawthorne Police Department.
Cartegena's two other son's ages 9 and 14 were taken into protective custody by the Department of Children's and Family Services.
Anyone with information about this incident is encouraged to contact the Los Angeles County Sheriff's Department's COPS Bureau at (323) 627-8137.