This is an archived article and the information in the article may be outdated. Please look at the time stamp on the story to see when it was last updated.
A hazardous materials crew was called to a recycling facility in Irvine Friday morning after several people began feeling sick.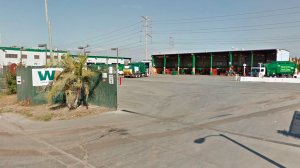 A call came in about 8 a.m. after approximately seven people near a pile of trash inside the Waste Management facility in the 16100 block of Construction Circle started to feel sick, said Capt. Larry Kurtz with the Orange County Fire Authority.
The people affected showed signs of watery eyes, sore throat, coughing and sneezing, Kurtz said.
Six of the people were taken to local hospitals for treatment and one person declined to go, Kurtz said.
The entire facility was evacuated due to the incident, Kurtz said.
A hazmat crew was sent the scene but did not find any hazardous materials, according to a tweet from the Fire Authority.
Irvine – Update on Haz-Mat Incident; OCFA Haz-Mat team completed search of facility. No hazardous materials found.

— OCFA PIO (@OCFA_PIO) September 9, 2016
KTLA's Jennifer Thang contributed to this report.