This is an archived article and the information in the article may be outdated. Please look at the time stamp on the story to see when it was last updated.
It was a day the Golden State Killer's rape victims say they've waited more than 40 years for as they faced the man tied to the serial killer's attacks in a Sacramento courtroom on Thursday.
Media clogged the hallway just outside of the courtroom, where suspect Joseph DeAngelo made his first court appearance since late May, according to KTLA sister station KTXL in Sacramento.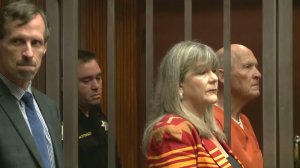 DeAngelo is accused of raping at least 50 women, though he is not charged with those crimes due to the statute of limitations.
The former police officer does, however, face 12 counts of murder in connection with a series of gruesome slayings he is accused of committing across California in the 1970s and '80s. He also faces special circumstances allegations of rape and attempted rape in at least one killing.
The defense filed a motion to bar media from covering Thursday's court proceedings. But the judge overruled that request, saying he believes the "public does have the right to know," and that DeAngelo "won't be prejudiced by the proceedings."
The district attorney is in the process of providing discovery to defense and requested proceedings to be continued to Sept. 5.
After waiting decades for their day in court, the survivors' encounter Thursday lasted less than 10 minutes.
But that didn't make it any less "intense," said Margaret Wardlow, who is considered the Golden State Killer's youngest rape victim. The crime occurred when she was just 13.
"It's just intense. I don't know how else to explain it," she said. "I really thought I was really tough and strong, but it's kind of scary."
Three victims flew in to Sacramento to attend the proceedings and said they felt relieved following the confrontation, the Associated Press reported.
"I hope he suffers and dies in jail," Jane Carson-Sandler, who traveled from South Carolina, told the wire service. "But I hope he knows that he has not won, that we have the power and control now."
Carson-Sandler told KTXL she feels "so blessed that he's behind bars" and described Thursday's events as "surreal."
Debbi Domingo's mother and her mother's boyfriend were killed by the Golden State Killer in Goleta, just north of Santa Barbara. She said she's always believed the serial killer would be brought to justice for taking her mother away one day.
"Oh, I always think of my mom. I've got my mom and Greg on my T-shirt," she said. "They're always with me, you know? They're always with me."
Domingo traveled from Texas to be present for Thursday's proceedings, the AP said, adding that Carson-Sandler was crying and anxious in the courtroom until being comforted by Domingo, who she calls a "sister survivor."
KTLA's Erika Martin contributed to this report.