This is an archived article and the information in the article may be outdated. Please look at the time stamp on the story to see when it was last updated.
A 37-year-old West Hollywood man was convicted on Wednesday in the gruesome murder of his girlfriend two years ago, according to the Los Angeles County District Attorney's Office.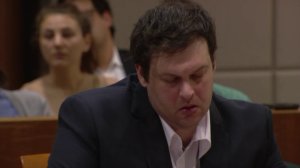 Blake Leibel was found guilty of first-degree murder, aggravated mayhem and torture, a DA's news release stated. Jurors deliberated less than a day before reaching their verdict.
"It was just overwhelming evidence against the defendant for having attacked, scalped and mutilated his girlfriend and the mother of his daughter," said Deputy District Attorney Tannaz Mokayef, who prosecuted the case along with Deputy DA Beth Silverman.
Leibel was accused of torturing 30-year-old Iana Kasian before killing her in May 2016, prosecutors said. All of the blood was then drained from her body.
"The amount of cutting and tearing, the violence involved; that's a lot of anger because she no longer was making him the number one most important thing in her life," Silverman said during closing arguments on Tuesday.
Kasian's death was described  by the L.A. County medical examiner as very slow and painful.
Her body was discovered in the 8600 block of Holloway Drive on May 26, after the victim's mother filed a missing person's report and requested sheriff's deputies check her residence, authorities said.
When they arrived at the unit, deputies found blood-stained sheets and clothing inside a dumpster. Deputies eventually forced entry into the home.
Inside, they found Kasian's nude body in the bedroom, underneath the comforters in their bed, according to prosecutors.
Investigators believe Leibel was planning to dispose of Kasian's body, but the deputies interrupted that plan.
Leibel initially tried to prevent deputies from entering the bedroom by barricading himself inside with the body, prosecutors said. He was arrested soon after.
His acts were willful, premeditated and deliberate, according to Silverman.
One of the reasons the defendant murdered Kasian was that he was jealous when the young mother's sole focus shifted toward the couple's newborn baby, Silverman said.
Kasian had given birth just weeks before she was killed, the Los Angeles Times reported.
Silverman also described the defendant as sadistic.
"Sadism is the gratification obviously from the infliction of pain and suffering on another, and we know that in this case the defendant obviously enjoyed it because he continued to do it for hours and hours," she said.
After court was adjourned, Silverman told KTLA it felt "great" to get the conviction.
"He is a monster," she said.
Leibel faces the possibility of life in prison when he is sentenced on June 26.