This is an archived article and the information in the article may be outdated. Please look at the time stamp on the story to see when it was last updated.
For the first time, the woman who was captured on cellphone video being beaten by a California Highway Patrol officer on the side of a Los Angeles freeway has opened up about the frightening ordeal.
"He tried to kill me, and I want him fired," Marlene Pinnock told KTLA on Sunday.
Video of the violent arrest, which occurred on the side of the 10 Freeway near La Brea Avenue on July 1 and was filmed by a passing motorist, showed the 51-year-old homeless woman being repeatedly punched in the face and upper body by a CHP officer who was straddling her.
The beating lasted for up to 15 seconds, according to the video.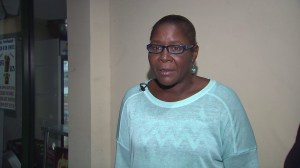 When asked what was going through her mind at the time, Pinnock said she thought he was going to kill her.
"'He must be trying to kill me, he's beating me to death… can I get up?'" she said, adding "I was trying to pull my clothing down…he wouldn't allow me to pull my clothing down."
In a recently filed civil rights lawsuit, Pinnock claimed that the officer ripped her dress, displaying her naked buttocks to the slow-moving traffic.
Pinnock also said she feared for her life.
"I was scared for my life, cause he just wouldn't stop beating me," Pinnock said. "I didn't know when he was going to stop."
The CHP, which has not released the officer's identity, has stated an investigation into the incident was ongoing.