This is an archived article and the information in the article may be outdated. Please look at the time stamp on the story to see when it was last updated.
HERMOSA BEACH, Calif. (KTLA) — Just in time for the unofficial kick-off to summer, Heal the Bay has released its 2012-13 Annual Beach Report Card.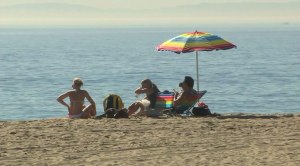 Many Southern Californians were expected to hit the beaches for Memorial Day Weekend, and the news was mostly good in Los Angeles County, with some notable exceptions.
Some 84 percent of L.A. County beaches received 'A' or 'B' grades, a four percent increase from the county's five-year seasonal average, according to Heal the Bay.
Hermosa Beach, the Wedge in Newport Beach, Abalone Cove Shoreline Park in Rancho Palos Verdes and Malaga Cove in Palos Verdes Estates all received high marks.
But the news wasn't good all across the board.
L.A. County also led Heal the Bay's "Beach Bummers" list, with four locations ranking among the state's 10 most polluted beaches.
Avalon Harbor Beach on Catalina Island topped the list of the worst beaches for the fourth time.
Cabrillo Beach harborside, Malibu Pier and Redondo Beach Pier also received low grades.
The Beach Report Card provides a summary of the past year's water quality at more than 600 beach monitoring locations along the West Coast.
The A-to-F grades assigned to each beach represent the risk of adverse health effects to beachgoers, according to Heal the Bay.
For a complete list of the grades, visit HealtheBay.org.