This is an archived article and the information in the article may be outdated. Please look at the time stamp on the story to see when it was last updated.
The owners of a 5-year-old Yorkshire terrier named "Cash" said Tuesday they believed their tiny pet was mauled to death by another dog while staying at Camp Ilene in Corona.
The distraught owners, who were vacationing in Mexico at the time, said they were not notified until five hours after their dog died.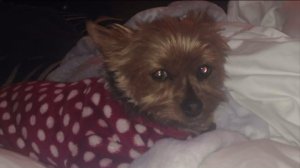 Camp Ilene owner, Ilene Robbins told KTLA she understands the family`s pain, but described the dog's death as a "horrible accident."
Cash's owner Kristy Sullivan said she was told by Camp Ilene that her dog just stopped breathing. But she said photos taken at the vet's office showed the little Yorkie covered in blood.
According to Sullivan, the vet also told her family that Cash suffered several puncture wounds.
The Sullivan family thinks a big dog attacked their little dog because the animals were not being properly supervised.
Sullivan has ordered a necropsy to determine exactly how Cash died.
Sullivan told KTLA she would like to see the boarding house shut down.