This is an archived article and the information in the article may be outdated. Please look at the time stamp on the story to see when it was last updated.
Police were asking for the public's help Friday in identifying a man involved in an assault outside the Roosevelt Hotel in Hollywood on Halloween.
The incident began inside the hotel on Oct. 31 when two men got into as a dispute over alcohol service, said Capt. David Storaker of the Los Angeles Police Department.
"It had to do with them paying for the drink service and whether or not they were allowed to be at the table where they were at," Storaker said.
The altercation then spilled into an alley at Orange Drive and Hollywood Boulevard, according to an LAPD news release.
The suspect punched the victim several times in the face and body and kicked him in the head, causing serious injuries, the release stated.
The injured man was transported to a hospital where he was treated for a fractured eye socket and received several stitches. He has since been released, officials said.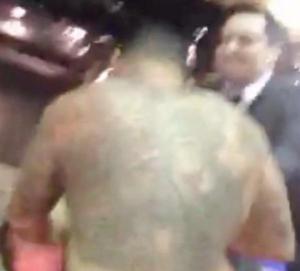 The man being sought was described as 30 to 35 years old, Hispanic, 5 feet 8 inches to 5 feet 9 inches tall, and about 170 to 190 pounds.
He was wearing BDU-style black pants, military-style black boots, a dark colored watch on his left wrist and had numerous tattoos covering his back and arms, the LAPD said.
Anyone with information was asked to contact police Detective E. Reyes at 213-972-2927.
More Video: