This is an archived article and the information in the article may be outdated. Please look at the time stamp on the story to see when it was last updated.
Heavy downpours prompted flash flood warnings for parts of Ventura County Wednesday as forecasters called for potential rainfall rates between one-quarter of an inch to 1 inch per hour in some areas.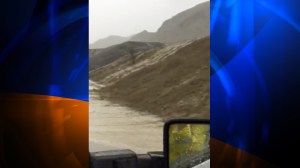 The strongest rain was expected to fall between 9 a.m. and 3 p.m., with scattered showers and  a chance of isolated thunderstorms continuing overnight, according to a Ventura County emergency information bulletin.
Drivers were also warned they may experience delays along Highway 101 and Pacific Coast Highway due to debris flows.
Video posted to Twitter by the Ventura County Sheriff's Department showed mud flowing into several lanes of traffic and warned drivers to stay off the roadways in north Ventura County.
A second video taken by field units showed flooding at Emma Wood State Beach, the Sheriff's Department tweeted.
Northbound lanes south of Dulah had as much as 3 inches of mud in lanes, but remained open, according to the bulletin.
A closure of the number 1 lane was scheduled for "mitigation activities" in the Solimar Burn Area and the State Beaches offramp has also been closed.
Flash flood warnings were issued for the cities of Western Ventura, Fillmore, Ojai, Santa Paula, Rincon Point, Lake Casitas and Piru until 1:15 p.m., according to the National Weather Service.
Earlier flash flood warnings for the Solimar Burn area, as well as severe thunderstorm warnings for Thousand Oaks, Simi Valley, Moorpark, Oak Park, Lake Piru and Somis expired at 11 a.m.
Voluntary evacuations were ordered for some Camarillo Springs homes.
A Red Cross shelter has been opened at Leisure Village Recreational Building located at 1200 Leisure Village Drive (map).