This is an archived article and the information in the article may be outdated. Please look at the time stamp on the story to see when it was last updated.
Containment on the Thomas Fire jumped to 25 percent Tuesday evening as it burned into its second week in Santa Barbara and Ventura counties, officials said.
The blaze grew to 236,200 acres or about 368 square miles, and will continue to advance as severe weather conditions lingered, according to the Ventura County Fire Department. It became the fifth largest wildfire in state's history on Sunday, and on Monday grew another 7,671 acres.
Santa Ana winds that have not let up since the fire broke out last Monday, Dec. 4, paired with hot, dry weather would continue to push the flames further into Santa Barbara County toward the communities of Summerland, Carpinteria, Montecito and eventually Santa Barbara, firefighters said.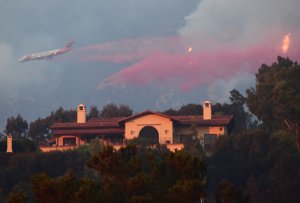 A red flag warning for the area has been extended through Friday morning by the National Weather Service. Meanwhile, lingering smoke was hampering aerial support due to poor visibility, and steep terrain was making it difficult for firefighters to safely fight flames on the ground, officials said.
As many as 18,000 structures remained threatened, and more than 93,000 people still were under mandatory evacuation orders (find more information below). So far, the fire has destroyed more than 800 buildings, including at least nearly 700 of them homes, according to Cal Fire.
But the wind was cooperating with firefighters Monday and pushing the fire away from nearby communities, Santa Barbara County fire spokesman Mike Eliason told CNN. The breeze had also cleared the air somewhat, leading to improved visibility for fire crews.
"It's still not great. It's bad, but it's a better bad," Eliason said, warning that there was a fine line between winds helping firefighting efforts.
"You want the breeze to clear the air, but you don't want the breeze to fuel the fire," he said. "Hope springs eternal. Every day we're going to hope that this progressing and getting closer and closer of being put to bed. But right now we're going to need some rain and the long-range forecast doesn't show that."
On its northern and eastern flanks, The fire is also moving into the Sespe Wilderness and the Sespe Condor Sanctuary in northern Ventura County, firefighters said.
The fire's containment lines are on its southern flank above Ventura but gusty offshore winds would continue to threaten homes in parts of Ventura, Ojai, Santa Paula, Casitas Springs, Fillmore, unincorporated areas of Ventura County, Murrieta Canyon and Matilija Canyon. But by 2 p.m., both mandatory and voluntary evacuations were lifted in the Lake Casitas area.
Officials were also concerned about the possible failure of public safety communication and cellular service as the fire threatened critical communication infrastructure on mountain peaks within the fire area.
The blaze has cost $48.6 million to fight so far and has been blamed for the death of a 70-year-old woman whose body was found in a vehicle along evacuation routes.
Mandatory evacuations:
• Ventura: North of Foothill Road from Day Road to Kimball Road
• Ojai area: Unincorporated areas west of Ventura River, north of Hwy 150, east of Casitas Ranger Station, south of Los Padres National Forest; Los Encinos Road to Burnham Road, south of Hwy 150, and the Lake Casitas Recreation Area south of SR 150
• Unincorporated Ventura County: Residents and day visitors of Rose Valley
• Ventura County North Coast area: Boundary of Hwy 33 on the north to Casitas Vista Road, northwest to Hwy 150, Hwy 150 (Casitas Pass
Road) west to 101 Freeway and south on 101 Freeway (including Pacific Coast Highway) to Emma Wood State Beach
• Unincorporated Fillmore area: The area of Hall Road to the west, Sespe Creek to the east, Fillmore city limits to the south and Los Padres National Forest boundary to the north
• Santa Barbara County: For the communities of Carpinteria, Montecito and Santa Barbara County from east at Mission Canyon Road to west from Hwy 150, and north of Hwy 192 to East Camino Cielo
Voluntary evacuations:
• Ojai: Casitas Pass Road east to Highway 33, Spring Street to Loma Drive. (Includes Rice Road east to Loma Drive, Baldwin Road north to Besant Road)
• Unincorporated Fillmore area: Sespe Creek to the west, Burson Ranch to the east, Fillmore City limits to the south, and Los Padres National Forest boundary to the north
• Carpinteria and Summerland: South of Highway 192 to the Pacific Ocean
• Montecito: Between 101 Freeway and Highway 192.
• Santa Barbara: Between Highway 192 and South Salinas Street
Evacuation centers:
• Ventura: Ventura County Fairgrounds at Miners Building
• Oxnard: Oxnard College Gymnasium
• Goleta: UCSB
• All animal evacuations are being handled at the Ventura County Fairgrounds located at 10 W. Harbor Blvd. in Ventura
CNN Wire contributed to this report.
[googlemaps https://www.google.com/maps/d/embed?mid=1ASoCEnK1yHaI2Of55E92EXF69JdFdIp-&hl=en&w=640&h=480]
#ThomasFire time lapse of the plume collapsing creating dangerous conditions. pic.twitter.com/FQqahEXWZb

— VCFD PIO (@VCFD_PIO) December 12, 2017
This map shows the progression of the #ThomasFire through last night. The fire grew yesterday by 7,671 acres. https://t.co/6nU61ZrvQb pic.twitter.com/k3HVPHAA2j

— Santa Barbara County (@countyofsb) December 12, 2017