This is an archived article and the information in the article may be outdated. Please look at the time stamp on the story to see when it was last updated.
A student pilot escaped injury Thursday morning when a small helicopter crashed at the Riverside Municipal Airport on Thursday morning, officials said.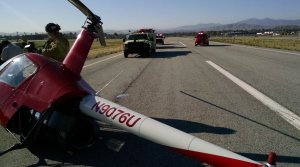 Shortly before 9 a.m. a tweet from the airport's official account stated: "Helicopter down. Air Ops responding."
The sole occupant of the 1983 Robinson R-2 was unhurt in what a Riverside Fire Department spokesman described as a "hard landing."
No fire occurred in the incident, which happened as the pilot of the two-seat helicopter was practicing take-offs and landings, Battalion Chief Mike Staley said.