This is an archived article and the information in the article may be outdated. Please look at the time stamp on the story to see when it was last updated.
Three people were killed after a helicopter crashed into Newport Beach home on Tuesday afternoon, police said.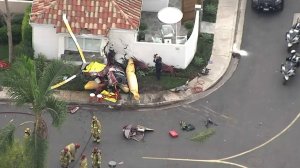 Five people were involved in the crash — four in the helicopter and one bystander on the ground, Newport Beach police said. It wasn't immediately clear if the three people killed were all aboard the helicopter or if the fatalities include the bystander.
The four-seat Robinson 44 helicopter crashed into the home at the corner of Shearwater Place and Egret Court around 1:45 p.m., according to Newport Beach fire and Federal Aviation Administration officials.
FAA's website indicated the aircraft was owned by Spitzer Helicopter, which reported leasing it to Revolution Aviation. That company offers flight training and tours, according to its website.
The aircraft had departed from John Wayne Airport, according to Ian Gregor, a spokesperson for the FAA.
The home involved is situated in a gated community about one mile southeast of the airport, and adjacent to the UC Irvine campus. A sign outside the community reads Bayview Terrace.
Residents were advised to avoid the area of Bristol Street and Bayview Place.
Footage from the scene showed mangled helicopter debris smashed into the side of a home whose walls appeared to be cracked and caving from the impact. A piece of debris could also be seen lying on the roof of a neighboring home it had damaged.
One woman who lives in the area told the Los Angeles Times she witnessed the crash when she ran to her balcony after hearing the helicopter's propellers struggling to turn. She described the aircraft clipping the roof of one home before crashing into the side of another.
Some witnesses who heard the crash ran from their homes to try and help the occupants. When they got to the wreckage, they saw three passengers inside the aircraft and the pilot on the ground outside, according to neighbors.
"Everybody ran to see if we could help," one female resident told KTLA. "There were people over there helping open up the helicopter."
It was unclear, based on her account, whether the pilot got out on his or her own, or was helped out by the bystanders.
Another neighbor who gave his name as Patrick came out to the view the scene after hearing a loud crash, something he said is uncharacteristic for the typically quiet neighborhood. He told KTLA he was "quite terrified about the situation" but had been told the residents of the home involved were safe.
The FAA and National Transportation Safety Board were both responding to investigate the scene.
No further details were immediately available.
KTLA's Jennifer Thang and Tracy Bloom contributed to this report.