This is an archived article and the information in the article may be outdated. Please look at the time stamp on the story to see when it was last updated.
A local businessman came to the rescue Wednesday after the family of 4-year-old Miracle Perez discovered that her specialized wheelchair was stolen from outside their Santa Ana home.
The little girl, who was born without legs and with a heart condition and other medical problems, needs the chair to get to and from school, her mother said Wednesday through a Spanish interpreter.
After hearing about the theft, George Objanyan with Sherman Oaks Medical Supply surprised Miracle with a donated stroller her mother can use until another custom wheelchair can be built.
"The kind of chair that she really needs will take weeks to get," said Objanyan.
Objanyan told KTLA he wanted to do something to help Miracle in honor of the holiday season.
Santa Ana police were investigating the theft, which occurred at the family's home in the 400 block of South Flower Street.
The custom-made wheelchair disappeared some time between 10 p.m. Saturday and 8 a.m. Sunday. It was stowed in a side yard, behind a fence, because the wheelchair is too large to fit in the family's small apartment.
"At this point, we're thinking because it is a specific-need wheelchair, somebody probably stole it to melt it down for money," Santa Ana Police Department Cpl. Anthony Bertagna said.
"Words can't explain how angry I feel when I came out and found out the wheelchair was missing," her mother said through an interpreter. "I couldn't believe that anyone would take that wheelchair."
Miracle told her mother that maybe the rain had washed the chair away.
The family went to several swap meets, hoping to find the wheelchair for sale, but they didn't find the chair. That's when they decided, this week, to report the theft to police, Miracle's mother said.
In the meantime, Miracle has been getting around in a toy scooter — or on her little skateboard, on which she's quite dexterous.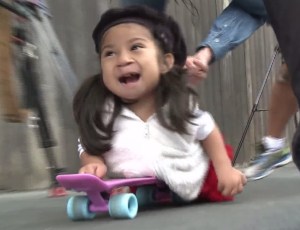 The police union is raising funds to buy a new chair for the girl, whose family cannot afford to replace it. Officers have already purchased a Christmas tree for the home.
To contribute, send donations to the Santa Ana Police Officers Association, Widows & Orphans Fund, Memo: Resident Rosa Perez, 1607 N. Sycamore St., Santa Ana, CA 92701.
A GoFundMe page has also been set up for the family.