This is an archived article and the information in the article may be outdated. Please look at the time stamp on the story to see when it was last updated.
Police and family members of a 14-year-old San Fernando Valley boy missing since Friday are asking the public for help in locating him.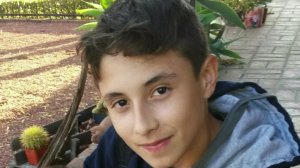 Elias Rodriguez was last seen in the 1000 block of Arroyo Street in the city of San Fernando after he left his school about 1 p.m. Friday, the Los Angele Police Department stated in a news release.
Family members have not heard from him and are concerned.
"We just want a sign that he's OK. We don't want to think the worst right now," Rodriguez's aunt, Jessenia Vega, said.
Rodriguez is described as Hispanic, with brown hair and brown eyes. He stands 5 feet 4 inches tall and weighs about 100 pounds. He is a student at the Cesar E. Chavez Learning Academies, a few blocks from his grandparents' house, where he usually went after school.
Vega said that friends and students saw Rodriguez walking along Arroyo Street Friday before his disappearance.
Police Lt. Kathleen Burns said an LAPD helicopter had searched a nearby wash. She noted that about 5 inches of rain fell on the day Rodriguez disappeared.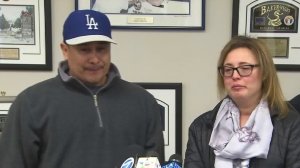 "We miss him," Rodriguez's father, Sergio Rodriguez, said in a Tuesday afternoon news conference. "He's a good kid, we just want him home."
The teen's mother, Paola Mascorro, added, "He's not in trouble. We just need him to come home and know that he's OK."
They said his son has never run away from home and they are concerned for his safety. Elias would never leave his mother, who has cancer and has been through radiation and chemotherapy, Vega said.
Family members and friends spent the weekend putting up fliers, while investigators are scouring the teen's social media and cellphone. He didn't have the phone with him when he disappeared,
Police said during the news conference that they received a tip from someone who spotted Rodriguez at the North Hollywood Metro station, but they are waiting to confirm the sighting.
He was last seen wearing a black hat, black sweatpants, a gray sweatshirt with "Lakeview" on it.
Anyone with information was asked to contact the LAPD Mission Area watch commander at 818-838-9800. Those who wish to remain anonymous can call Crime Stoppers at 800-222-8477.
Missing 14-yr old teenage Elias Rodriguez, If you have any information please contact police @LAPDMission @lapd @@LAPDMEU @LAPDOVB pic.twitter.com/LIt5CwKNPW

— LAPD Foothill (@LAPDFoothill) February 22, 2017
KTLA's Melissa Pamer contributed to this article.