This is an archived article and the information in the article may be outdated. Please look at the time stamp on the story to see when it was last updated.
Officials on Thursday asked for the public's help in locating a group of people accused of tossing a small dog onto a heavily-traveled stretch of the 101 Freeway in the Hollywood area.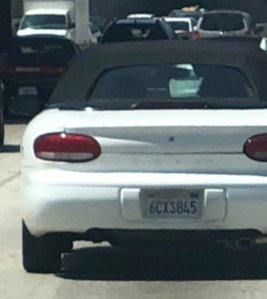 The brown and white dog was "intentionally released" on the northbound freeway between Melrose Avenue and Santa Monica Boulevard last Friday around 2:35 p.m., according to a news release from the Society for the Prevention of Cruelty to Animals Los Angeles.
A white Chrysler Sebring convertible occupied by four young women was nearly stopped in traffic when the passenger door open and someone tossed the dog onto the crowded roadway, a witness told the organization.
The door closed, and the vehicle continued down the No. 2 lane, the release stated.
The canine, believed to be a terrier mix, was last spotted running through southbound traffic.
California Highway Patrol officers responded immediately to the scene, but they were unable to locate the abandoned dog, according to the release.
SPCALA personnel also tried to locate the pooch, but their efforts were also unsuccessful.
The organization says its working to track down the registered owner of the two-door convertible, a 2000 Chrysler Sebring with a black top and a license plate No. 6CXS845. They are also seeking the public's help to find it.
The incident could result in possible felony charges for intentional animal cruelty, SPCALA noted in the release. Possible punishments include a $20,000 and jail time.
Witnesses to the incident, as well as anyone who knows the dog's or the car's whereabouts, is urged to call the Animal Cruelty Tipline at 800-540-7722 or go to the website www.spcaLA.com.