This is an archived article and the information in the article may be outdated. Please look at the time stamp on the story to see when it was last updated.
Police asked to public for help Wednesday in identifying a man suspected of photographing up the skirt of a woman as she shopped at the Mitsuwa Marketplace in Torrance.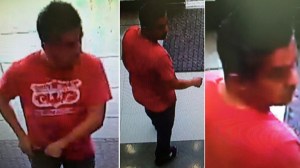 The 35-year-old victim noticed someone was watching and following her as she shopped at the Japanese market located at 21515 Western Avenue (map) between 3 and 3:25 p.m. on June 27, the Torrance Police Department stated in a bulletin.
As she reached for a bottle of water, the victim felt someone close behind her and quickly turned to see who it was.
She found the man crouched down behind her with one of his hands extended toward the bottom of her skirt, which fell just above her knees, and he had his cell phone in his hand, according to the Police Department.
The woman yelled and the man quickly walked toward the exit doors before running out of the market, the Police Department stated.
The man was last seen fleeing southbound on Abalone Avenue near Carson Street.
Police released surveillance images Wednesday in hopes of identifying the man.
He was described as Hispanic, between 20 and 35 years old, standing 5 feet 2 inches to 5 feet 6 inches tall with a medium build and black or brown short hair.
He was wearing a red T-shirt with a white logo and dark pants.
Anyone with information was asked to contact the Police Department at 310-618-5641.