This is an archived article and the information in the article may be outdated. Please look at the time stamp on the story to see when it was last updated.
Authorities on Tuesday asked the public for help in identifying a man who investigators said inappropriately touched a boy in a restaurant bathroom in Long Beach over the weekend.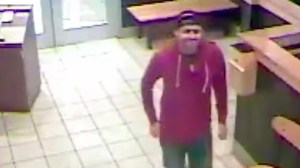 The incident occurred at a Buffalo Wild Wings restaurant located in the area of Pacific Coast Highway and Second Street (map) at about 7:45 p.m. Sunday, the Long Beach Police Department stated in a news release.
The man seen on surveillance video allegedly touched a child in the men's restroom of the business and then fled.
The victim was under 10 years old, according to the Police Department.
Detectives released the video in hopes of someone identifying the man and coming forward.
The man was described as white or Hispanic, about 20 to 30 years old with a thin build, dark hair and mustache.
He was wearing a red hoodie sweatshirt, dark pants, and a baseball cap.
Anyone who recognizes the man in the video was asked to contact Detective P. Jennings at 562-570-7354.
Anyone who knows the immediate whereabouts of the man was asked to call 911.
Those who wish to remain anonymous can call 1-800-222-TIPS (8477).