This is an archived article and the information in the article may be outdated. Please look at the time stamp on the story to see when it was last updated.
The Orange County Sheriff's Department was asking for the public's help in identifying a woman whose remains were discovered at a wilderness park earlier this year.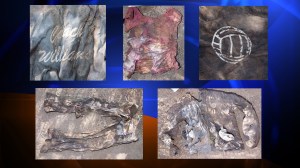 The woman's body, which was found in Caspers Wilderness Park (map) on Jan. 6, had been there for at least six months, according to a news release from the Orange County Sheriff's Department.
Preliminary tests indicated that the woman was petite, around 30 years old and had shoulder-length wavy dark brown hair with highlights, the release stated.
She also had a "very distinct" gold-colored dental bridge on her lower left jaw and had possibly sustained a broken nose at some point during her life, according to the release.
Along with the body, deputies recovered a dark windbreaker with "Coach Williams" embroidered on the front of the jacket, along with a logo depicting what appeared to be either a volleyball or a water polo ball.
They also found a pair of dark yoga-style pants, a pinkish short-sleeved shirt or tank top, and a green hair scrunchie.
Anyone with information was asked to contact the Orange County Sheriff's Department by calling 714-647-7055.