This is an archived article and the information in the article may be outdated. Please look at the time stamp on the story to see when it was last updated.
A 21-year-old Hemet man was arrested on suspicion of impersonating a police officer after he tried to pull over a sheriff's deputy on Tuesday, authorities said.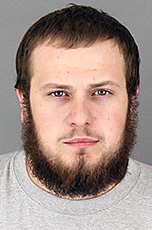 Johnnie Issa Sellers was arrested Tuesday night by the Riverside County Sheriff's Department.
About 12:30 p.m. Tuesday, a sheriff's deputy, whose gender was not given, was driving a personally owned vehicle in the Murrieta area when a white Dodge Dart pulled up behind, the Sheriff's Department said in a news release.
The Dart had "emergency lights" and a siren activated, including two flashing lights in the upper windshield area, the deputy said. An "audible police-style siren" was also used by the Dart.
The deputy did not pull over and instead contacted the Riverside County sheriff's dispatch center. The Dart passed the deputy's car and drove on, but the deputy took a photo of the car and its license plate.
After an investigation, the car was found in Hemet with LED light strips in the upper windshield area and a public address system installed, the Sheriff's Department said.
Sellers, the vehicle's registered owner, was arrested on suspicion of misdemeanor impersonating a police officer.
He is due in court May 5.