This is an archived article and the information in the article may be outdated. Please look at the time stamp on the story to see when it was last updated.
A herd of seven Nubian ibex goats were euthanized at the Los Angeles Zoo last month after becoming infected by a herpes virus, officials confirmed Thursday.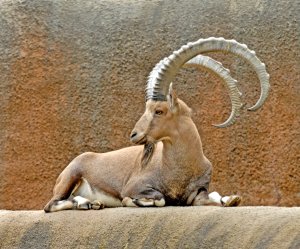 Six African antelope became sick and died at the zoo in October, and zoo officials identified the source of infections as malignant catarrhal fever. MCF is developed from a herpes virus which was apparently being carried by the Nubian ibex. The virus can infect and cause the death of other "even-toed hoofed" animals, zoo officials explained in a news statement to KTLA.
"To protect the Zoo's other hoofed animals, on Nov. 1, 2017, the difficult yet responsible decision was made to humanely euthanize the Nubian ibex herd," the statement reads. "The Nubian ibex could not be sent to any other facility housing hoofed animals, as those animals could contract the disease and die. It would have been irresponsible of the Zoo to send the Nubian ibex to another facility knowing they could cause harm to additional animals."
Zoo staff took precautions to protect other animals from outbreaks in other hoofed animals, and officials said the disease is no longer on zoo grounds.
The MCF disease cannot be transferred to humans, zoo officials explained.
The Nubian ibex is listed as threatened and vulnerable by the International Union for Conservation of Nature.