This is an archived article and the information in the article may be outdated. Please look at the time stamp on the story to see when it was last updated.
The death toll from a shooting at a Southern California bar might have been higher than 12 if not for a veteran police officer and two college-age men.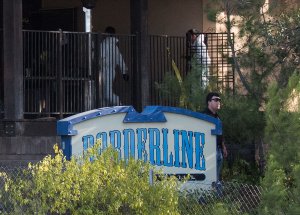 Cole Knapp, a Moorpark College freshman, and 20-year-old Matt Wennerstrom were having fun at Borderline Bar and Grill in Thousand Oaks when a man sprayed the bar with gunfire Wednesday night.
In the chaotic moments that followed, they became heroes.
When Wennerstrom saw the gunman, he pulled others under a pool table. When the man paused to reload, he and others smashed a window with barstools and shoved people through.
Knapp led others to an outdoor patio and over a fence to safety.
Sheriff's Sgt. Ron Helus died in an exchange of gunfire. Authorities say that confrontation gave others time to escape.
A video posted to Facebook by witness Dallas Knapp shows deputies running toward the shooting scene. An out of breath voice can be heard shouting, "Guys, he's shooting more people in there."
Along with the video, Knapp posted the message reading, "This is for Sgt. Ron Helus who gave his life protecting innocent lives. First person there and confronted him to try to save others hiding inside."