This is an archived article and the information in the article may be outdated. Please look at the time stamp on the story to see when it was last updated.
A Hesperia high school student has been taken into custody after allegedly threatening violence against his school, officials said.
The Los Angeles Times reported that the student had created a hit list naming 33 students and teachers at Encore High School for the Arts, and had a detailed mass shooting plot.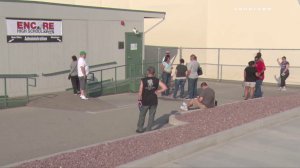 In a letter to parents Wednesday, Encore officials said the threat was made on a "social media outlet" and was seen by a parent, who contacted the San Bernardino County Sheriff's Department.
Deputies apparently had information about explosives on campus and sheriff's bomb squad and police dogs searched the school, at 16955 Lemon St., on Wednesday, but nothing was found, the newspaper reported.
The high school has been working with law enforcement agencies and the Hesperia Unified School District during the investigation, according to the letter.
Sheriff's spokeswoman Cindy Bachman said on Twitter that the student was "planning to shoot" students and staff at the school.
Sheriff John McMahon addressed concerns at the school on Wednesday and said the student had a detailed plan to carry out the threats.
Bachman said on Twitter that officials are confident the student was acting alone and authorities were not investigating other suspects.
The student was apparently removed from the school and has not been on the campus since the investigation started, according to the letter to parents.
"He will not be returning to our campus and we believe that our campus is and continues to be a safe place for our staff and students," the letter read.
Several students and teachers were interviewed in connection with the ongoing investigation.
No further details were released about the student, but the Times reported he is being held at High Desert Juvenile Detention Center. He had limited access to firearms, according to the newspaper.
Sheriff McMahon speaks to concerned parents at Encore High School in Hesperia pic.twitter.com/mEiuPAIfmt

— Cindy Bachman (@SBCSDcbachman) September 22, 2016
Encore High School Inv: We are confident that this student was acting alone and are not seeking additional suspects

— Cindy Bachman (@SBCSDcbachman) September 22, 2016