This is an archived article and the information in the article may be outdated. Please look at the time stamp on the story to see when it was last updated.
A Hesperia man was sentenced to 25 years to life in state prison for killing a 1-year-old girl by placing his foot on her chest and "pressing down with most of his weight," the San Bernardino County District Attorney's Office announced Wednesday.
Daniel Ruiz was sentenced Friday after being found guilty in November on one count each of second-degree murder and assault on a child causing a death, according to the DA's office.
On Aug. 28, 2013, Ruiz was left alone with 1-year-old Scarlett while his girlfriend and the child's mother ran to the store.
While the women were gone, Ruiz walked over to the victim who was lying on the floor in front of a television, the DA's office stated.
"He then placed his left foot on her chest, applying most of his 230 pounds of weight on her body," Kathleen DiDonato, a lead deputy district attorney who prosecuted the case, said in the statement. "Scarlett began gasping for breath."
Ruiz then walked over to the TV and started flipping through the channels until he noticed the girl was having an apparent seizure, prosecutors said.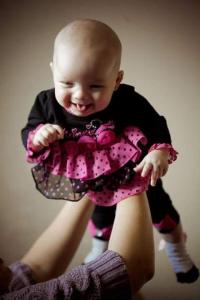 "He tapped Scarlett on the cheek, trying to get her to snap out of it," the DA's office said.
When Ruiz heard the mother returning home, he ran outside and told her the baby was having a seizure.
Unable to contact 911, the woman picked up her daughter and ran across the street to a fire station.
Scarlett died at a hospital a short time afterward. Two days later, her injuries were discovered during an autopsy, according to prosecutors.
Ruiz initially claimed he "didn't know what happened, other than the seizure," the release said.
In a subsequent interview with Hesperia police, "the defendant admitted to purposely stepping on Scarlett due to stress and the fact that he felt the ladies were taking advantage of him," the release stated.
Ruiz said "he actually felt better after stepping on the victim," according to DiDonato,