This is an archived article and the information in the article may be outdated. Please look at the time stamp on the story to see when it was last updated.
The wealthy backer behind the social media scavenger hunt sensation Hidden Cash returned to Southern California Thursday, with the first drops made in Lake Balboa Park.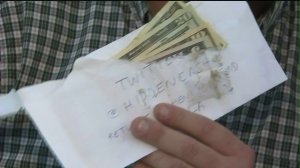 Hidden Cash — which was started back in May by Bay Area real estate investor Jason Buzi — tweeted the first clue for the second Los Angeles area scavenger hunt on  Wednesday night.
"LA: For tomorrow: They always told me money doesn't grow on trees. They lied. 10 AM for more clues," a tweet from the account stated shortly after 8:30 p.m., with a picture of $100 bills attached by a paper clip to a tree.
A separate tweet sent about an hour later added that the money would be on trees and in red plastic bins, marking a change from the last time the game was played in Southern California when the money was hidden in white envelopes.
Shortly before 10 a.m. on Thursday, Hidden Cash tweeted that the first drop would be in the San Fernando Valley.
LA: Money grows on trees in the valley pic.twitter.com/82XAITHcfY

— Hidden Cash (@HiddenCash) July 10, 2014
He then tweeted the first official clue just after 10 a.m.
LA first clue: They locked the gate on me after I hid the $$$ here last night! Had to do some off roading. pic.twitter.com/OaObt5hcKq

— Hidden Cash (@HiddenCash) July 10, 2014
Two more clues followed and suddenly hundreds cash hunters converged on Lake Balboa Park to search for money filled paper clips that were stuck to trees, and 15 plastic boxes containing different amounts of cash.
The day's first winner took home 100 dollars. "I happened to catch it out of the corner of my eye just off the bridge so I went down there and picked it up," Brian D'Haem said.
When the scavenger hunt for money was last in the L.A. area at the end of May, cash drops were made in multiple areas, including in Burbank, Pasadena, San Marino , Echo Park and Hermosa Beach.
This time around, there would also be drops in other areas around Southern California, including one each in Orange County and the Inland Empire, according to a tweet. The last drop in the area would be sometime on Sunday.
Since Hidden Cash began, the account had gained nearly 700,000 followers on Twitter. It has also garnered worldwide attention and spawned numerous copycats.
The game, which was billed as "anonymous social experience for good" on Hidden Cash's Twitter account, also represented a way for Buzi to give back, he said several days after he started hiding money in the San Francisco area.
Buzi has also stated that he hoped Hidden Cash would inspire others to pay it forward.
At least one of Thursday's winners planned on taking the idea to heart. "I'm going to go take my girlfriend's dad out to breakfast right now and leave a nice tip," D'Haem said.
LA: For tomorrow: They always told me money doesn't grow on trees. They lied. 10 AM for more clues. pic.twitter.com/d9M9KDpzVD

— Hidden Cash (@HiddenCash) July 10, 2014
For tomorrow: we ditched the envelopes. Put some $$$ on trees and the rest in these: pic.twitter.com/l4Hieq1SgY

— Hidden Cash (@HiddenCash) July 10, 2014
More Video: