This is an archived article and the information in the article may be outdated. Please look at the time stamp on the story to see when it was last updated.
A luxury high-rise building in downtown L.A. was evacuated after a pipe broke on the 25th floor and left water flowing into floors below, according to the Fire Department.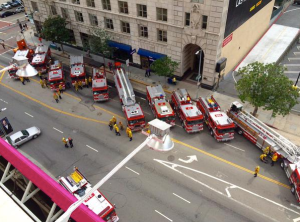 Firefighters were called to the "water removal" operation at 717 W. Olympic Blvd. at about 1:20 p.m., according to Erik Scott of the Los Angeles Fire Department.
The mixed residential and commercial building was restoring water to its fire alarm system when a pipe broke on the 25th floor, Scott said.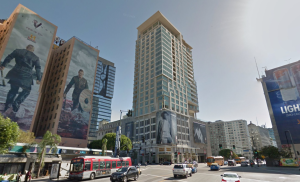 Floors below the break were seeing water flows. The water system was shut down, but "residual flow" was expected, he said.
Between 1 and 1 1/2 inches of water were covering the affected floors, according to an LAFD division chief on scene.
Residents said they traveled nervously down slippery stairwells, not knowing the the fire alarms were for an actual fire.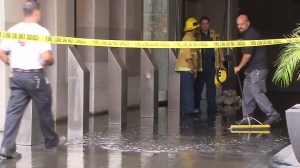 "It was really kind of like a scene from 'Waterworld,'" said resident Steven Harper. "We were getting wet actually coming down."
No one was injured. About 100 firefighters responded, Scott said, and about a dozen emergency vehicles were on scene.
The building had been yellow tagging meaning there is moderate damage and that the building habitability is limited, according to the fire officials.
The address given by the Fire Department corresponds to a 28-story luxury apartment building in the South Park neighborhood, near Staples Center and L.A. Live.
More video: