This is an archived article and the information in the article may be outdated. Please look at the time stamp on the story to see when it was last updated.
A part-time wresting coach at Santa Ana High School has been arrested after allegedly having "a sexual relationship" with an underage female student, local police said Wednesday.
Jaime Oredain, 34, is also an activities director for the school and was arrested on charges of felony statutory rape, oral copulation and digital penetration Tuesday night, the Santa Ana Police Department said.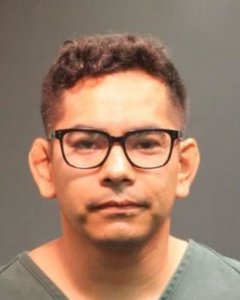 A press release from police said Oredain allegedly engaged in "consensual sex" with a 17-year-old girl at the school and "many of the sexual encounters occurred on campus during school hours." 
Once Oredain knew he was being investigated, police said, he fled and told schools officials he was headed for San Antonio, Texas.
A video he posted on Instagram made friends and family think he may be suicidal, police said.
Oredain was made aware of the police investigation and immediately fled. He told school officials he was moving to and posted a video on Instagram that made friends and family believe he was suicidal. Police responded to Oredain's home to check on his welfare but he fled before police arrived. 
After an extensive search, officers located Oredain in the riverbed near the 4000 block of west Segerstrom Avenue. Oredain was arrested without incident and booked at the Santa Ana Jail for .