This is an archived article and the information in the article may be outdated. Please look at the time stamp on the story to see when it was last updated.
Los Angeles police pursued a white Mercedes in South Los Angeles on Wednesday, exchanging fire with a man they believed was involved in a shooting, according to the LAPD.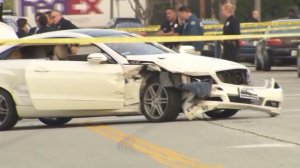 The pursuit began around 3 p.m. when police spotted the car on the 110 Freeway that they believed was involved in a shooting in the 77th Street area the night before, according to LAPD Deputy Chief Phillip Tingirides. When officers attempted to stop the vehicle, it exited the freeway and entered a parking garage south of 8th Street and west of Figueroa Street, authorities said.
Officers set up a perimeter at the parking structure and believed the driver was armed, based on their association of the vehicle with the Tuesday night shooting, Tingirides said. The suspect allegedly shot at police before getting into his vehicle and taking off, police said.
Officers did not fire back initially but later fired one round of ammunition when the man attempted to drive his car into one of the officers, according to Tingirides.
"He went into a parking structure just south of 8th Street and west of Figueroa," Det. Meghan Aguilar told KTLA. "As the officers began to establish a perimeter that vehicle drove in the direction of one of the officers and that's when there was an officer-involved shooting."
The driver was then seen on camera driving at high speeds through residential neighborhoods in Hyde Park near 76th Street and Van Ness Avenue around 3:45 p.m.
The man was taken into custody after crashing into three other vehicles, a 2004 Nissan hatchback, 2000 Saturn and a 2010 black Hyundai.
"All of a sudden a white car came zooming around and cars started flipping over. Then I seen the lights and I don't know what the heck had happened to be honest. It happened so quickly," said Kim Epps who was injured in the crash.
Numerous police officers rescued the driver of the black Hyundai after the vehicle overturned following the crash.
The driver was stuck in her car for about ten minutes before officers were able to remove her from the vehicle after breaking her windshield.
Multiple drivers were injured, police said, and the Hyundai driver was transported with cuts on her head and an injured shoulder. The officer who rescued her was also transported after his eye was cut by glass when he broke her windshield, officers said.
A weapon was later recovered from the parking garage, Tingirides said, but officers have not yet determined whether the pursuit driver was indeed involved in Tuesday night's shooting.
Correction: A previous version of this article said multiple drivers were taken to the hospital. Multiple drivers were injured, but only one driver and one police officer were transported.