This is an archived article and the information in the article may be outdated. Please look at the time stamp on the story to see when it was last updated.
A high surf advisory was in effect Tuesday morning for many Southern California beaches.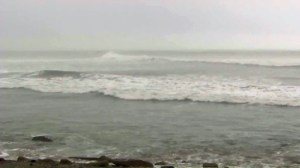 The large west-northwest swell was generated by a storm in Gulf of Alaska, which also brought big waves to our coastal areas Monday.
Six to 10 foot surf with maximum sets of 12 feet were expected to reach Los Angeles County beaches Tuesday, according to the National Weather Service.
The surf was likely to subside Tuesday evening in Los Angeles and Orange counties with surf advisories scheduled to expire at 5 p.m.
Further north, the big waves were expected to roll in a little longer, with surf advisories extending into Wednesday evening for Ventura County.
Swimmers and inexperienced swimmers were urged to stay out of the water during periods of high surf as dangerous rip currents can develop.
Beachgoers were also asked to stay off of rock walls and jetties, as sneaker waves can knock people into the water.